Hello to all you Grand Geeks and Gatherers aplenty in the geeky world!  I hope everyone's weekend was as great as mine though, in all fairness I still have one hurdle to cross. Besides work, there was an amazing D&D session to be had, and then there was that most recent episode of Game of Thrones. And in a couple of hours, I head to the theaters to watch (you guessed it!) Avengers: Endgame.  I'm certainly not prepared…but then again I wasn't prepared for that session or for that episode either. Suffice it to say I'll be quite exhausted once the movie is over, and the fatigue certainly has already set in. But before I head off to do that, how about a few good suggestions, hmm?
---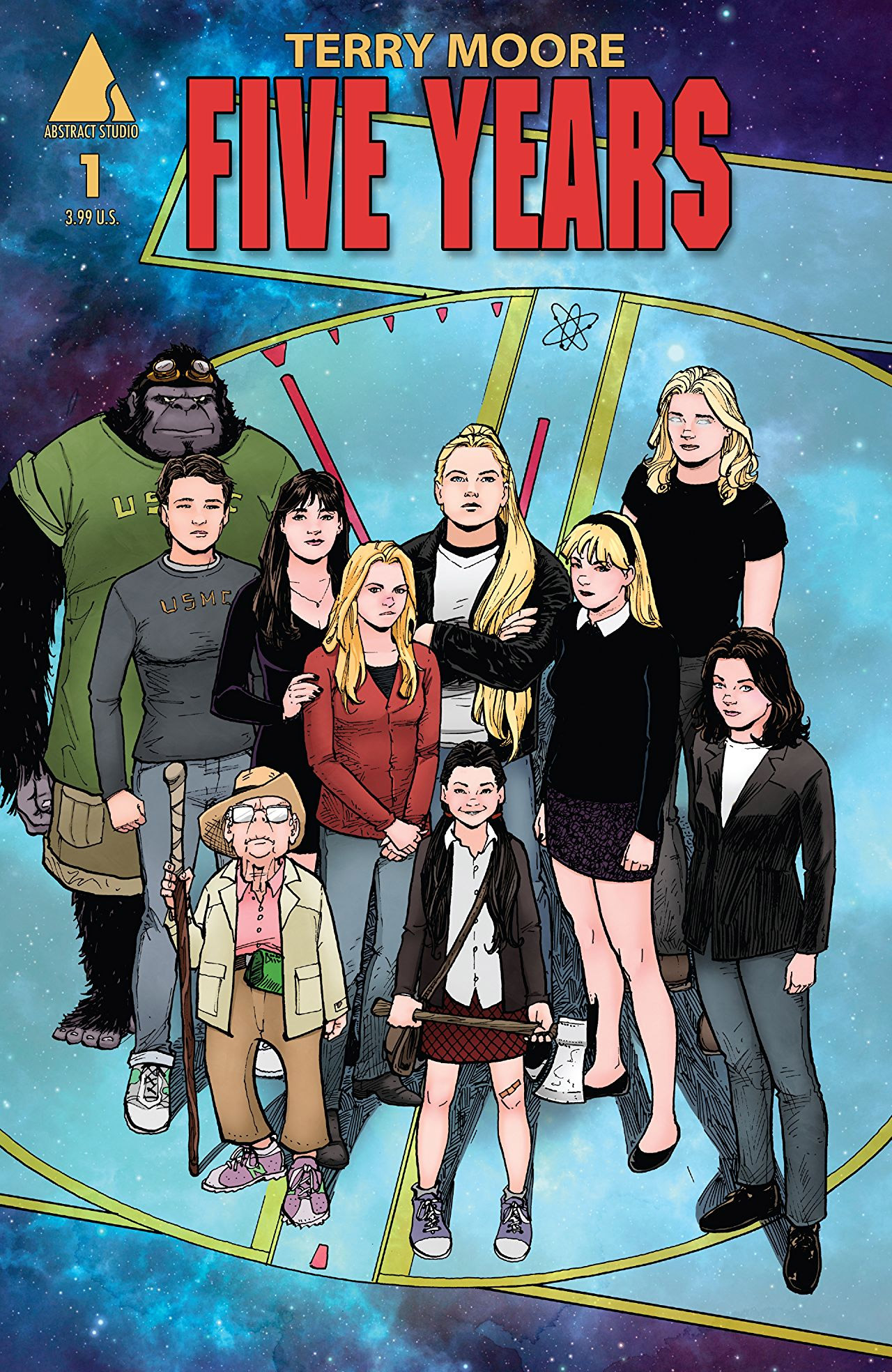 Five Years #1
Writer(s): Terry Moore
Artist(s): Terry Moore
Cover Artist(s): Terry Moore
Publisher: Abstract Studios
Synopsis: " 'Five Years weaves the many strands of the "Terryverse' into one epic saga, years in the making! A dangerous paper written by Lilith has been leaked to the nations of the world containing a formula for the ultimate weapon, and now labs around the globe are attempting to build and test the Phi Bomb. Tambi, in an all-out effort to find the labs and stop them, has enlisted the help of Ivy Raven, Julie Martin, Rachel and Zoe. Meanwhile, Katchoo and Francine have moved their household – including the kid's new bodyguard, Samantha Locklear – to the beach where Katchoo devises her own solution to the problem…"
–PREVIEWSworld
Never has a such a fresh and original idea been so inviting to my eyes! It would seem that this is a doomsday prevention story with strong female characters at the helm to prevent the impending apocalypse from occurring.  Whether they are successful or not though remains to be seen!
Available in digital format from https://abstractstudiocomics.com/ and https://www.comixology.com/.  Hard copy format available at your LCS!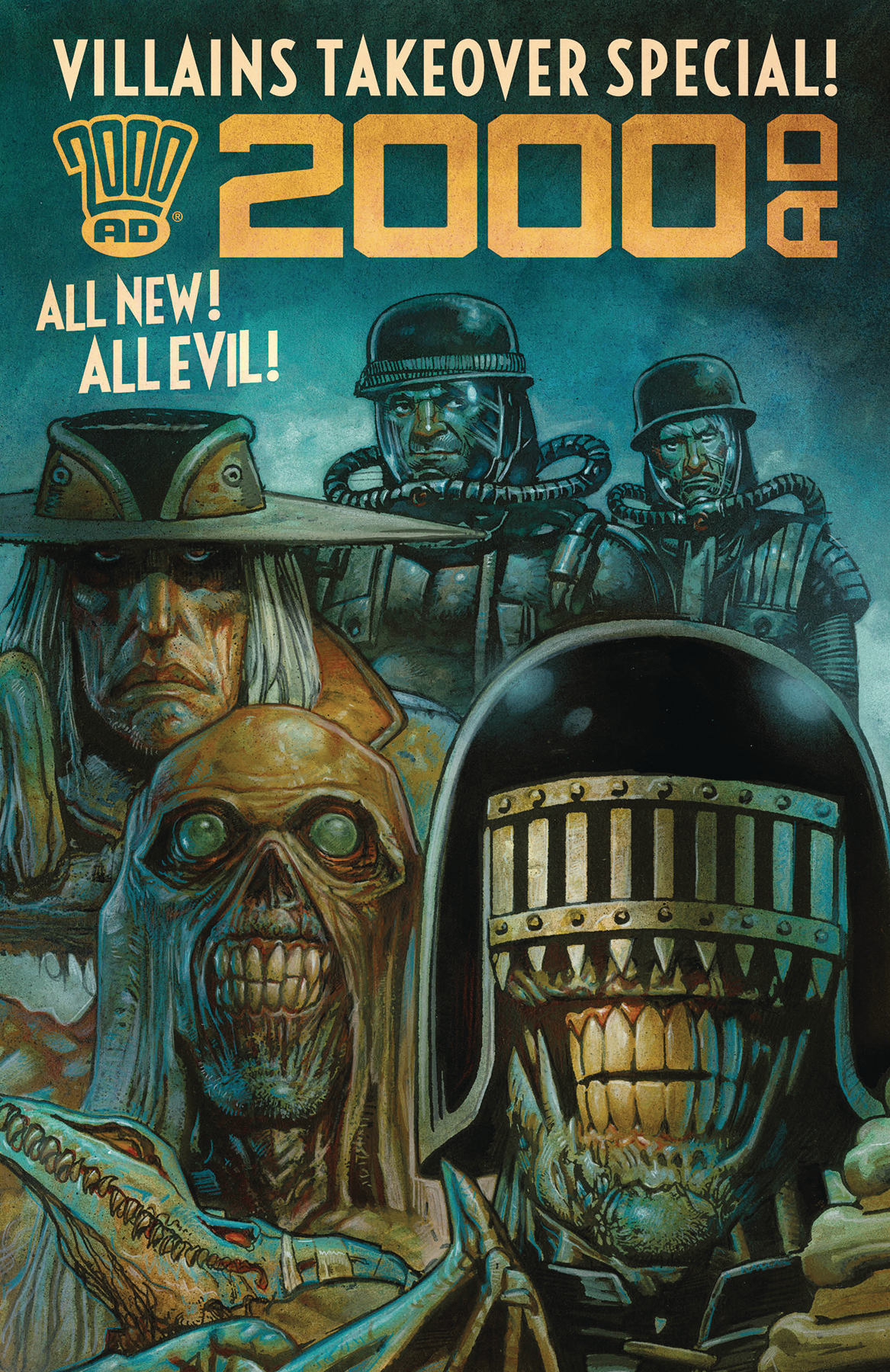 2000 A.D.: Villains Takeover Special! #1 (one-shot)
Writer(s): Rob Williams, Pat Mills, Matt Smith, Henry Flint
Artist(s): Henrik Sahlstrom, Kyle Hotz, Kael Ngu, Henry Flint
Cover Artist(s): N/A
Publisher: Rebellion
Synopsis: "In time for Free Comic Book Day the bad guys take over the Galaxy's Greatest Comic with a nefarious new special full of criminal capers and villainous ventures: the 2000 AD Villains Takeover! At the low, low price point of 99 cents, this is the ideal shelf-stuffer to tempt roguish readers into the world of 2000 AD! In this improper issue we have the very best forbidden felons and outlandish outlaws – the lawman of the future faces a familiar rictus grin in Judge Death: The Judge Who Laughs by Rob Williams and Henrik Sahlstrom; there's fiendish fantasy with Lord Weird Slough Feg: Lord Of The Hunt by Pat Mills and Kyle Hotz…"
–PREVIEWSworld
Sometimes evil just has to win, so to speak! In this issue in anticipation of 2000 AD's celebration of Free Comic Book Day, we see some of Rebellion's iconic villains take the helm in capturing reader's imaginations.  Judge Death. Lord Weird Slough Feg. The Stix. The Hellphibians! And so much more to entice your dark side in this special one-shot!
Available in digital format from https://rebellion.com/books-comics and https://www.comixology.com/.  Hard copy format available at your LCS!
---
And there we have it for May Day, folks! Free Comic Book Day is just around the corner and with some wonderful indie tales of 2000 A.D. coupled with a fresh and inviting story from the Terryverse, there's no excuse NOT to get these books and others with but a mere click of a button or screen.  But of course I know you're better than that and will show your support for local business by marching down to your local store this Wednesday to pick up the hard copies themselves.  Read them and share with your friends.  Start a conversation and be sure to leave a comment or two.  But most importantly, remember…GGG!