Howdy Gatherers and Grand Geeks! I'm certainly on cloud 9 knowing that my work week will be a short one. And why is that you might ask? Well, it's the start of con-season for me! And this weekend I'm heading to WonderCon in Anaheim to partake in its festivities and fun.  Alas, it is not in me to use an entire article to gloat so let's see what I suggest to you this week from the realm of indie comics in order to satisfy all of your reading needs!
---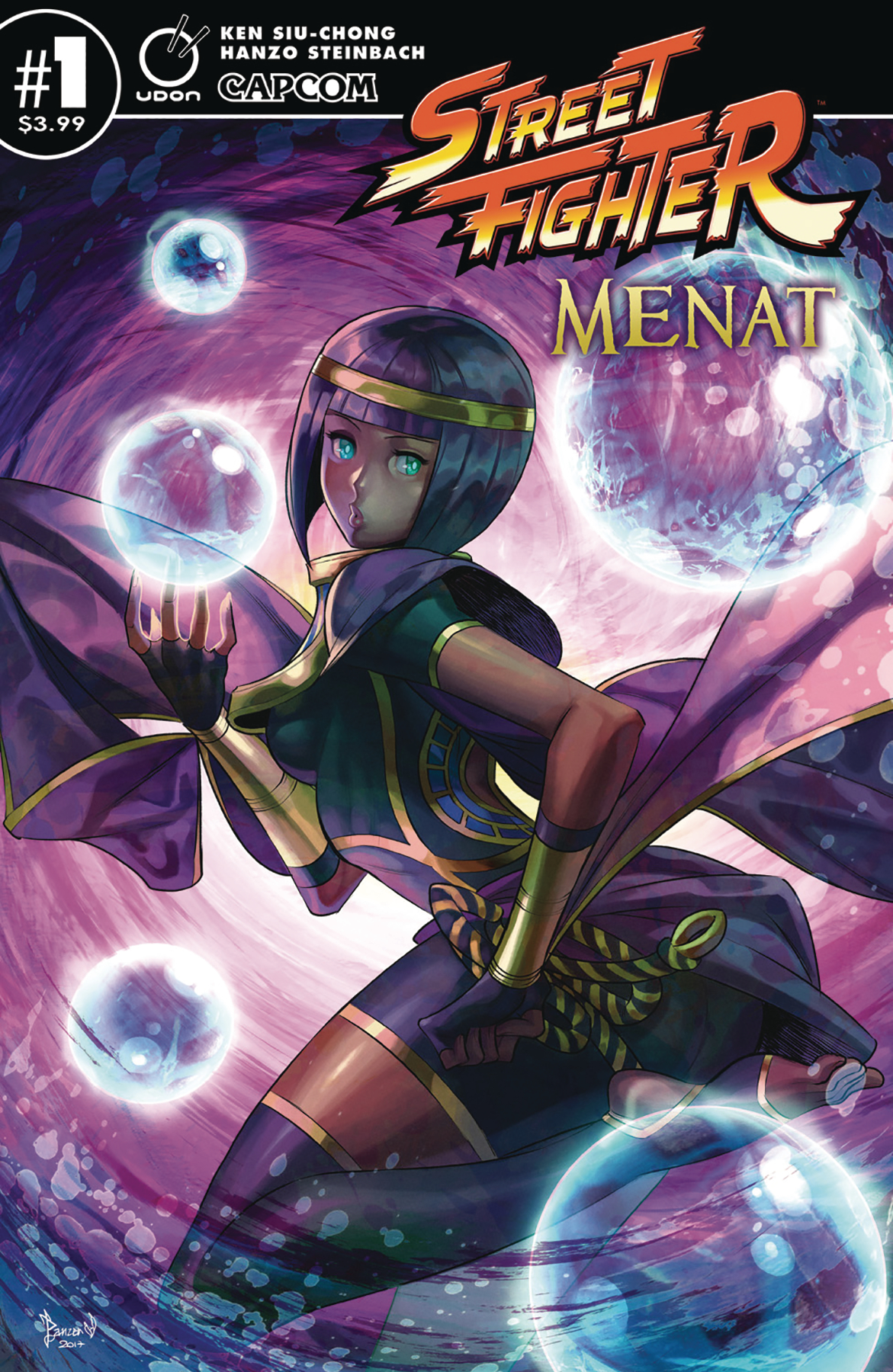 Street Fighter: Menat #1
Writer(s): Ken Siu-Chong
Artist(s): Hanzo Steinbach
Cover Artist(s): Panzer, Hans Steinbach
Publisher: Udon Entertainment
Synopsis: "The first in a series of new Street Fighter one-shot comics! Meet Menat, the enigmatic Egyptian fortune teller on a quest to avenge her master's death. But it's not just any villain Menat is seeking… it's the Dark Lord of Shadaloo himself – M.Bison!"
–PREVIEWSworld
More than thirty years ago, arcades were graced with a video game that would take the world by storm. Nowadays Street Fighter has been licensed many times over to make it an iconic segment of the whole of not only video game culture but pop culture in general!  Thus Udon knows how to cater to such popularity with the issuing forth of new one-shots set in the Street Fighter U!  This first issue details the story of an Egyptian prognosticator on a mission to seek retribution for her fallen teacher.  Of course, all roads for such quests lead back to one villain only…M. Bison!
Available in digital format from https://www.focusattack.com/udonstore/ and https://www.comixology.com/.  Hard copy available at your LCS! These Savage Shores #1
Writer(s): Ram V
Artist(s): Sumit Kumar
Cover Artist(s): Sumit Kumar
Publisher: Vault Comics
Synopsis: "…Two centuries after the first European ship sailed to the Malabar Coast and made landfall at Calicut, the East India Company seeks to secure its future along the lucrative Silk Route, in the year 1766. An old evil now sails aboard a company ship, hoping to make a home in this new found land. But he will soon find that the ground along the Indus is an ancient one with daemons and legends far older than himself. Along These Savage Shores, where the days are scorched and the nights are full of teeth…"
–PREVIEWSworld
New spins on classic horror is what you get with this great black and white series made immortal by Vault's team up of Ram V and Sumit Kumar. Evil comes to Malabar's Coast courtesy of the East India Trading Company, but little does it realize that India's heartland is home to many an evil that are far more ancient and terrifying than himself.
Available in digital format from https://vaultcomics.com/ and https://www.comixology.com/.  Hard copy available at your LCS!
---
And there we have it for March, folks!  By this time next week April will show its bright face and we will be off to another month of finding sweet indie comics choices for all to enjoy. Just take a look at these fine stories in of themselves!  Street Fighter one-shots combined with ancient horror stories brought to light in modern times.  These gems and more await you at the mere click of a button or screen on your keyboard, tablet or phone.  But of course you'll head down to your local comics stores this Wednesday and show your support for their business by buying the hard copies themselves.  Read them and share with your friends.  Start a conversation and be sure to leave a comment or two. But most importantly, remember…GGG!