Hello to all you wonderful Gatherers and Grand Geeks out there!  I hope all is well in your neck of the woods. Out here in the Southern California area the weather can't seem to break completely free of the overcast gloom. Fine for keeping things a little cool but, in all honesty I'd rather be seeing more sun daily. Sun so that I can sit under the shade of that tree or by poolside and read some of my favorite books.  But hey, this article is about you and not me so let's see what I shall recommend to you this week, hmm?!
--- At the End of Your Tether #1 (of 3)
Writer(s): Adam Smith
Artist(s): Vv Glass
Cover Artist(s): Deena So'Oteh
Publisher: Lion Forge Comics
Synopsis: "Nervous about having to see his ex, Ludo Carre gives her a phone call to explain he'll be returning to the old base they grew up on. Big laughs and a familiar sort of cadence in Arlo's voice don't just instantly calm him down they make him excited to see her. That excitement only hurts him more when they show up the next day and find out Arlo has been missing…for the last week."
–PREVIEWSworld
It seems Ludo Carre's life takes a strange turn when he dreads having to go see his ex but then that same dread turns to excitement when a simple phone call to Arlo gets his motivation going. Problem is, when he finally arrives at the place where they are to meet, he finds that Arlo's been missing all this time.  A bit of a mystery story with lots of intrigue all contained in this three-issue miniseries!
Available in digital format from https://www.lionforge.com/ and https://www.comixology.com/. Hard copy format available at your LCS!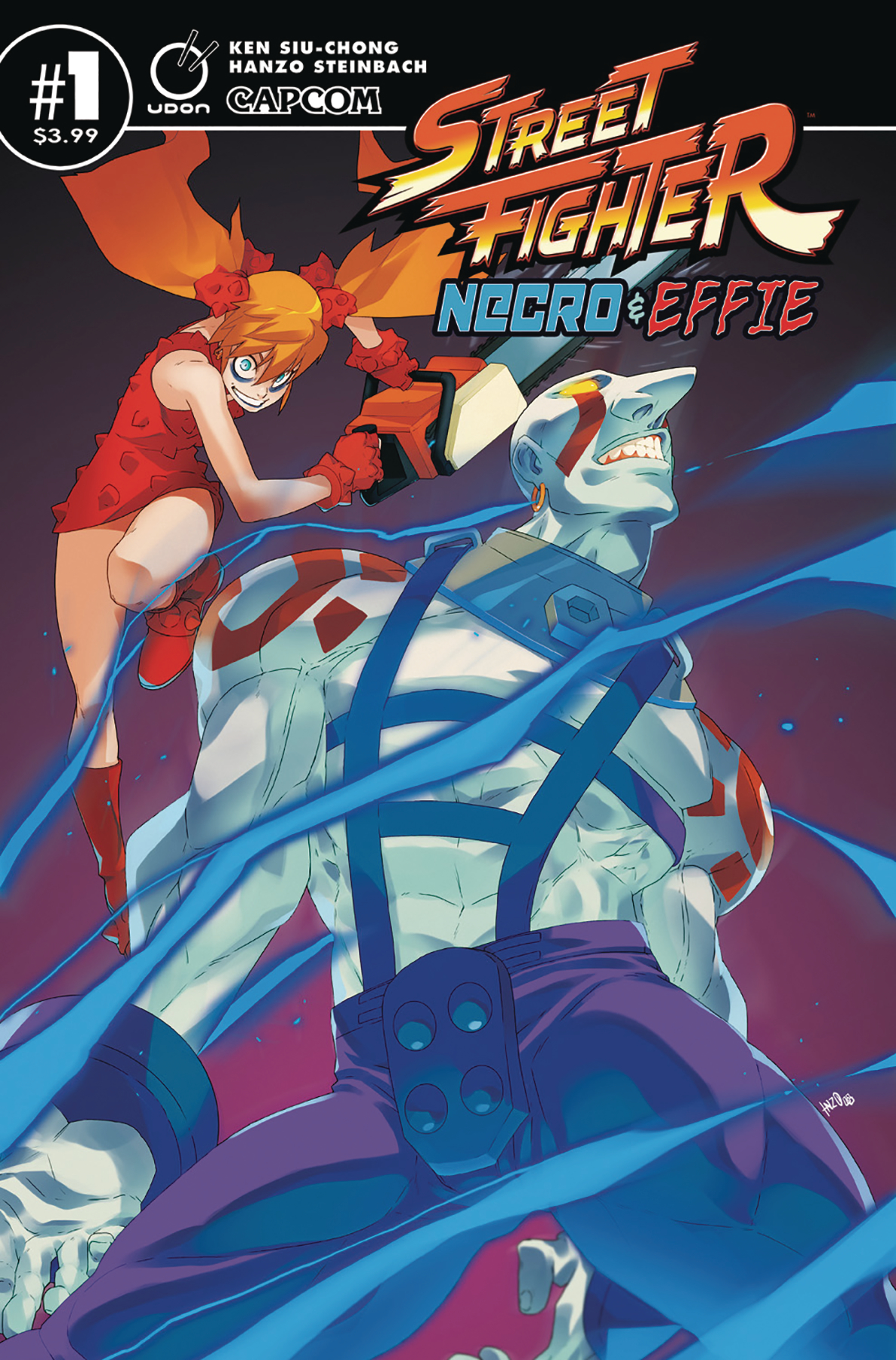 Street Fighter: Necro & Effie #1
Writer(s): Ken Siu-Chong
Artist(s): Panzer
Cover Artist(s): Hanzo Steinbach, Jeffrey Chamba Cruz
Publisher: Udon Entertainment
Synopsis: "Meet Necro and Effie, the screws-loose, madly-in-love mutant couple of the Street Fighter universe! On the run from Urien, Kolin, Nash, and the whole Secret Society, this pair of lunatic lovebirds will need to jump through heaps of harrowing hoops to stay alive!"
–PREVIEWSworld
Ah, one has to appreciate the impact of some of comics' greatest romantic couples. Lois and Clark. Tony Stark and Pepper Potts. Joker and Harley even, if one wants to get into the realm of mad love!  And even more madly in love do we find the mutants Necro and Effie in the realm of Street Fighter!  It seems the two are on the run from the Secret Society and must do everything they can in order to make good on their escape. They have become a relatively modern-day Bonnie & Clyde duo in their bid for freedom but let's just hope that they actually have the means to do so!
Available in digital format from https://www.focusattack.com/udonstore/ and https://www.comixology.com/. Hard copy format available at your LCS!
---
Apparently this week is really looking up for indie books featuring the shenanigans of couples. Between Ludo having to find Arlo along with Necro's and Effie's adventures, one cannot help but see the power of love in the indie realm of comics for the last week of June! These gems and so many others await you at the mere click of a button on your keyboard or tablet/phone screens, but being the right-minded supporters of local businesses you are I know you will head down to your comic stores this Wednesday to pick up the hard copy issues themselves. Read them and share with your friends. Start a conversation and be sure to leave a comment or two.  But most importantly, remember…GGG!