Happy patriotic tidings to all you fine Gatherers and Grand Geeks out there!  The sun is out and blazing and we are once again set to celebrate our country's freedom this week.  This is always my favorite time of the year but, having said that, I know it's not just about the red, white and blue or the fireworks or the barbecues.  I find it also to be a wonderfully balmy time to enjoy some good indie reads to stoke my interests and I would expect the very same out of you! Let's see what's available this week, shall we?
---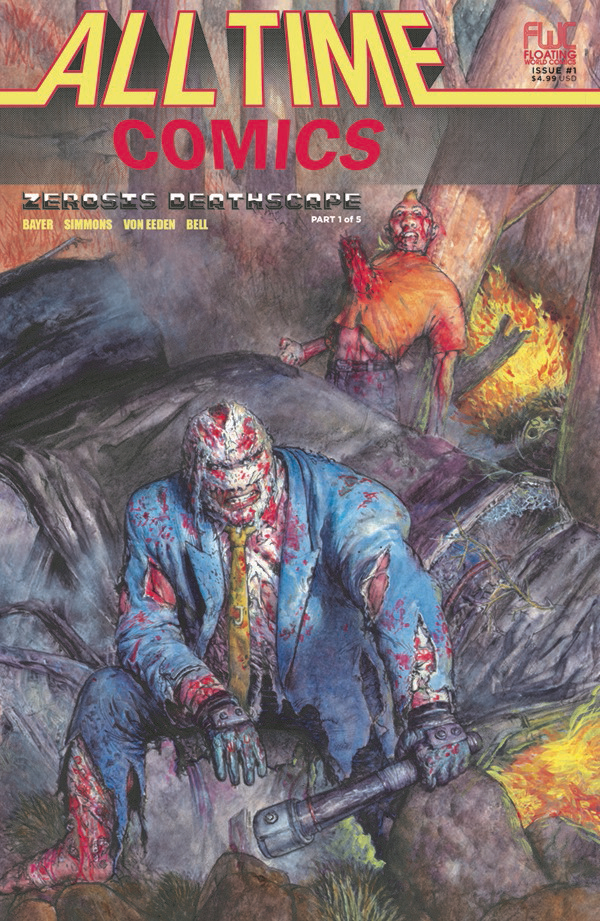 All Time Comics: Zerosis Deathscape #1 (of 5)
Writer(s): Josh Bayer, Josh Simmons
Artist(s): Trevor von Eeden, Gabrielle Bell
Cover Artist(s): Das Pastorus
Publisher: Floating World Comics
Synopsis: "Part 1 of 5. The Beggar terrorizes Optic City while The Daylight Savings Time Killer stabs his way to glory. Blind Justice meets a new level of street brutality. Time Vampire Scientist meddles! Toby Whey's tweaking! Bullwhip + Crime Destroyer! Face-melting art by Trevor Von Eeden and Gabrielle Bell!"
–PREVIEWSworld
Compilation style indie books are always a thing to be treasured in the comics realm, and Floating World brings you just that with this first installment of a five issue miniseries in Zerosis Deathscape! The beauty of the story is inside all the various front and center characters that have their particular tales going on. The Beggar. The Daylight Savings Time Killer. Blind Justice. Time Vampire Scientist. Toby Whey.  Bullwhip. Crime Destroyer! All play a roll in the larger narrative courtesy of Bayer's and Simmons' expertise and the artistic designs from the likes of von Eeden, Bell and Pastorus!
Available in digital format from https://floatingworldcomics.com/ and https://www.comixology.com/.  Hard copy format available at your LCS!
Test #1
Writer(s): Christopher Sebela
Artist(s): Jen Hickman
Cover Artist(s): Nathan Gooden, Jen Hickman
Publisher: Vault Comics
Synopsis: "Aleph Null is a lot of things: An orphan, a human guinea pig undergoing medical tests for cash, a bodyhacker, a hardcore future junkie, and a corporate asset. But now, Aleph is on the run from their old life, in search of a mythical, Midwestern town named Laurelwood-where they're test-marketing the future with tech that can't possibly exist yet, and won't for decades…"
–PREVIEWSworld
A little bit cyberpunk, a little bit futuristic combined with action and adventure and you have the crucial story being told in this new ongoing courtesy of Sebela and Hickman.  It seems that Aleph Null is in the midst of so much stuff in this world that apparently he is on the run from what he once knew in order to find what seems to be a fabled town where a new form of technology that shouldn't even be theoretically be possible is being tested.  Oh what a mysterious web being weaved!
Available in digital format from https://vaultcomics.com/ and https://www.comixology.com/.  Hard copy format available at your LCS!
---
The sweltering summer is at our doorsteps, Grand Geeks and Gatherers! And with it this Independence Day week comes two wonderful tales.  Villain compilations as well as cyberpunk fantasies.  These gems and more await you digitally at the mere click of a button.  But being conscious supporters of local businesses you are, I trust you will head down to your comic stores this Wednesday to pick up the hard copies themselves.  Read them and share with your friends. Start a conversation and be sure to leave a comment or two.  But most importantly, remember…GGG!