Happy exhausting post-Comic Con recovery day to all you fabulous Grand Geeks and Gatherers lingering in the cosmos!  I'm certainly suffering from exhaustion from all of the raw energy expended down in San Diego's five-day event that spans the fandoms of so many genres out there.  But with that said, it is a good kind of exhaustion, and in tandem with it being the fiftieth anniversary of the convention, I am quite willing to say I was there to help bring in the celebration and see to it that the convention lasts for another half century and beyond.  But for those that were not able to make it, here's some nice Picks to find at your stores this Wednesday!
--- Monster World: The Golden Age #1 (of 6)
Writer(s): Philip Kim, Holly Interlandi
Artist(s): Piotr Kowalski
Cover Artist(s): Piotr Kowalski, Nat Jones
Publisher: American Gothic Press
Synopsis: "Private detective Hank Barrymore stumbled upon the occult when he investigated a murder case on the World Studios movie set. Now, in his quest to find the witch he fell reluctantly in love with, Hank enlists the help of Nybbas, the demon of knowledge, and follows his clues to the plains of Oklahoma, where a strange farm boy is planting fear into the hearts of monsters and townspeople alike!"
–PREVIEWSworld
Horror and noir combined into a single book spanning a six issue miniseries?  Color me interested, people! It seems a private eye stumbles onto more than he bargained for when he makes a pact with an otherworldly entity to find the very witch that captured his heart.  Which…essentially would turn him into a warlock wouldn't it?  Oh the things we think along the way.  Alas, whatever's going on in Sooner country sure must be significant if clues are drawing him there!
Available in digital format from https://americangothicpress.com/ and https://www.comixology.com/.  Hard copy format available at your LCS!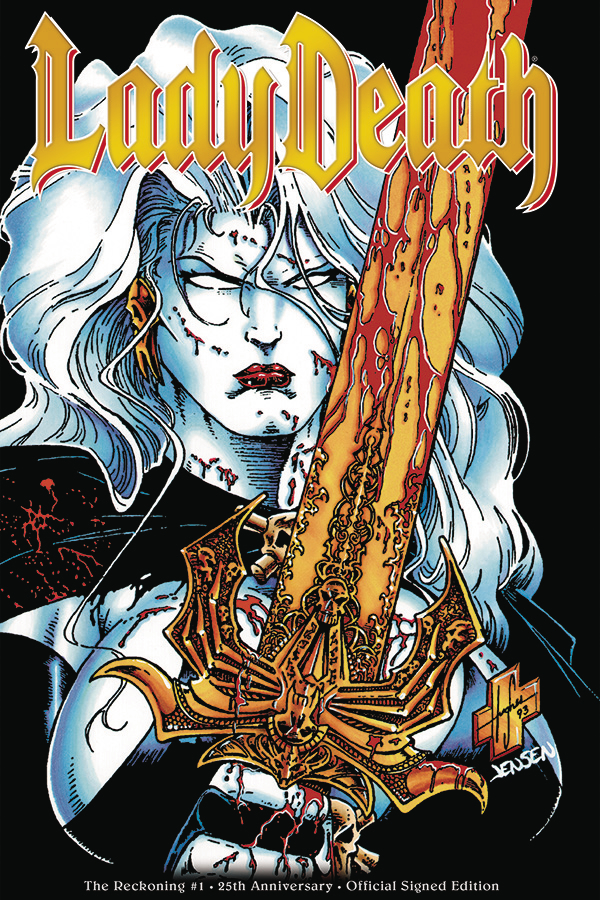 Lady Death: The Reckoning #1 25th Anniversary Signature Edition
Writer(s): Brian Pulido
Artist(s): Steven Hughes
Cover Artist(s): Steven Hughes
Publisher: Coffin Comics
Synopsis: "This 25th anniversary edition of the legendary Lady Death: The Reckoning #1 has been intimately re-mastered: re-scanned color pages, lettering restoration, and features a never-before-seen behind the scenes sketchbook section, interviews with Brian Pulido, Steven Hughes, and Jeson Jensen, and little seen art…"
–PREVIEWSworld
Lady Death. One of the many characters of the nineties that turned me onto the idea of indie books and their inherent worth.  Enjoy this remastered edition in all its glorious content plus some additional footage of sketches, artwork and exclusive interviews not seen in the original.  Observe how a simple girl named Hope does all she can to renounce her ties to humanity in order to save her mother from the flaming pits of Hell only to become the iconic and deathly femme fatal we all know and love.  A must for any hardcore fan of LD!
Available in digital format from https://www.ladydeathuniverse.com/ and https://www.comixology.com/.  Hard copy format available at your LCS!
---
It would seem that it is Halloween in July, Gatherers and Grand Geeks aplenty!  We have tales of noir era investigators becoming warlocks combined with a celebration of a twenty five year oldie but goodie that has become synonymous with Death itself!  These works and so many others can be found on the shelves of your local stores or from the mere click of a button on your keyboards or screens.  Read them and share with your friends.  Start a conversation and be sure to leave a comment or two.  But most importantly, remember…GGG!