Howdy ho, Gatherers and Grand Geeks! The cold returns to the south land here in California and with it the desire for warmth and bundling up once more.  It's winter time though so I doubt we'd have it any other way as we head into this Superbowl weekend.  Who are you rooting for?  The Rams? The Patriots?  Me, I'll just gladly take the commercials on the sidelines while sitting with some good ole comics to read.  But before I do that, let's see what Alterna Comics has for you this week!
---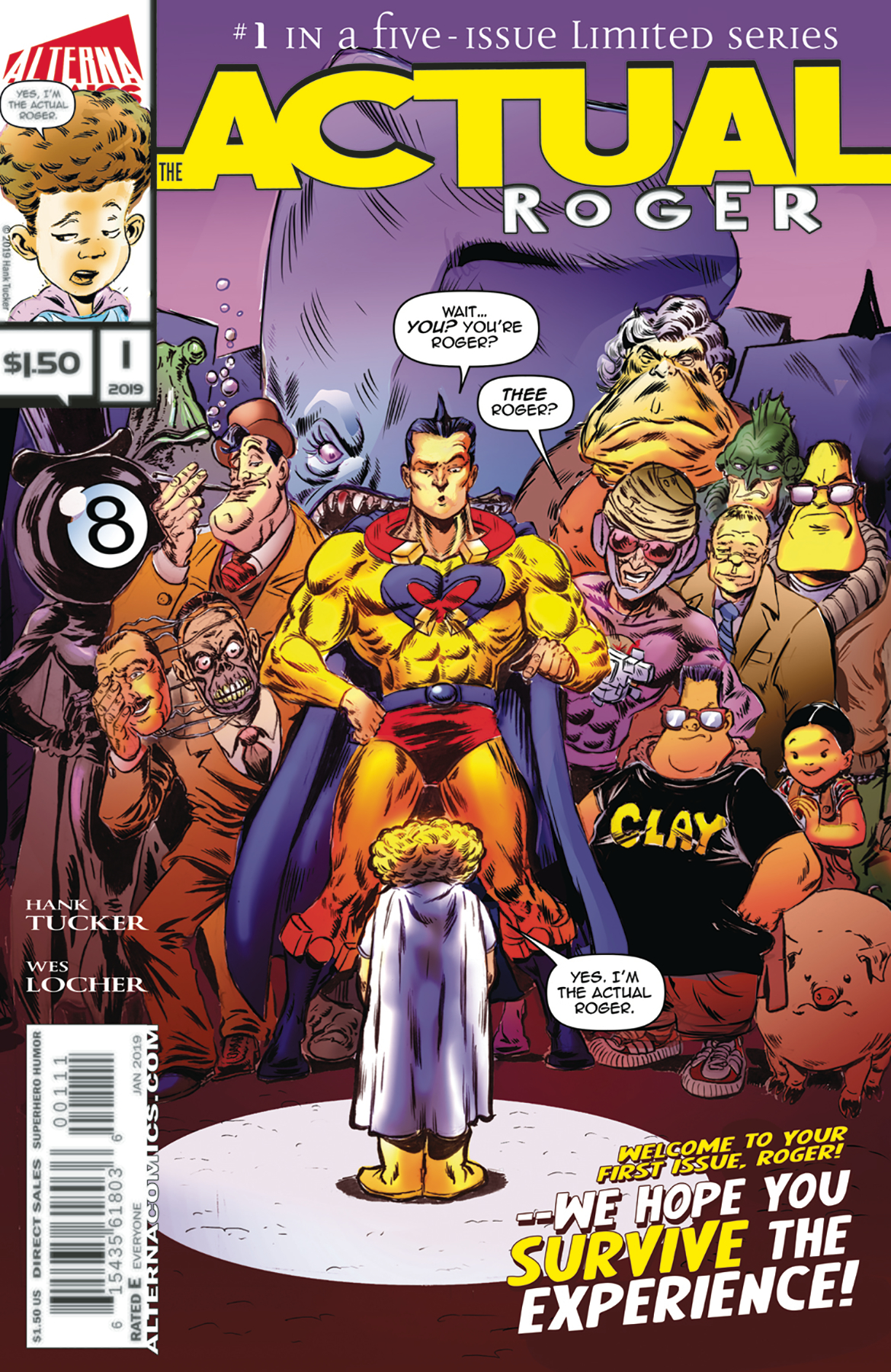 The Actual Roger #1 (of 5)
Writer(s): Hank Tucker
Artist(s): Hank Tucker
Cover Artist(s): Hank Tucker
Publisher: Alterna Comics
Synopsis: "From the director of The Tick animated series, The Actual Roger follows the misadventures of an unwanted sidekick. After a freak cosmic event gives Roger Beaman a strange ability, Roger is forced to become a side-kick to an actual superhero who really doesn't want him around."
–PREVIEWSworld
It is not very often we come across a tale of the sidekick coming into his own in a most novel way.  For Roger Beaman it must have been some strange turn of fate to give him a power that actually compels him to attach himself to aid a superhero.  Some might call that a win-win situation but how can it be for Roger when he is actually (see what I did there?) not wanted in the fight against villainy?  Read on in this new five-issue miniseries courtesy of Hank Tucker (The Tick, Enchanted) and see just how Roger actually fares as being the new sidekick.  We'll survive as readers, but will he?!
Digital format available from https://www.alternacomics.com/ and https://www.comixology.com/.  Hard copy format available from your LCS!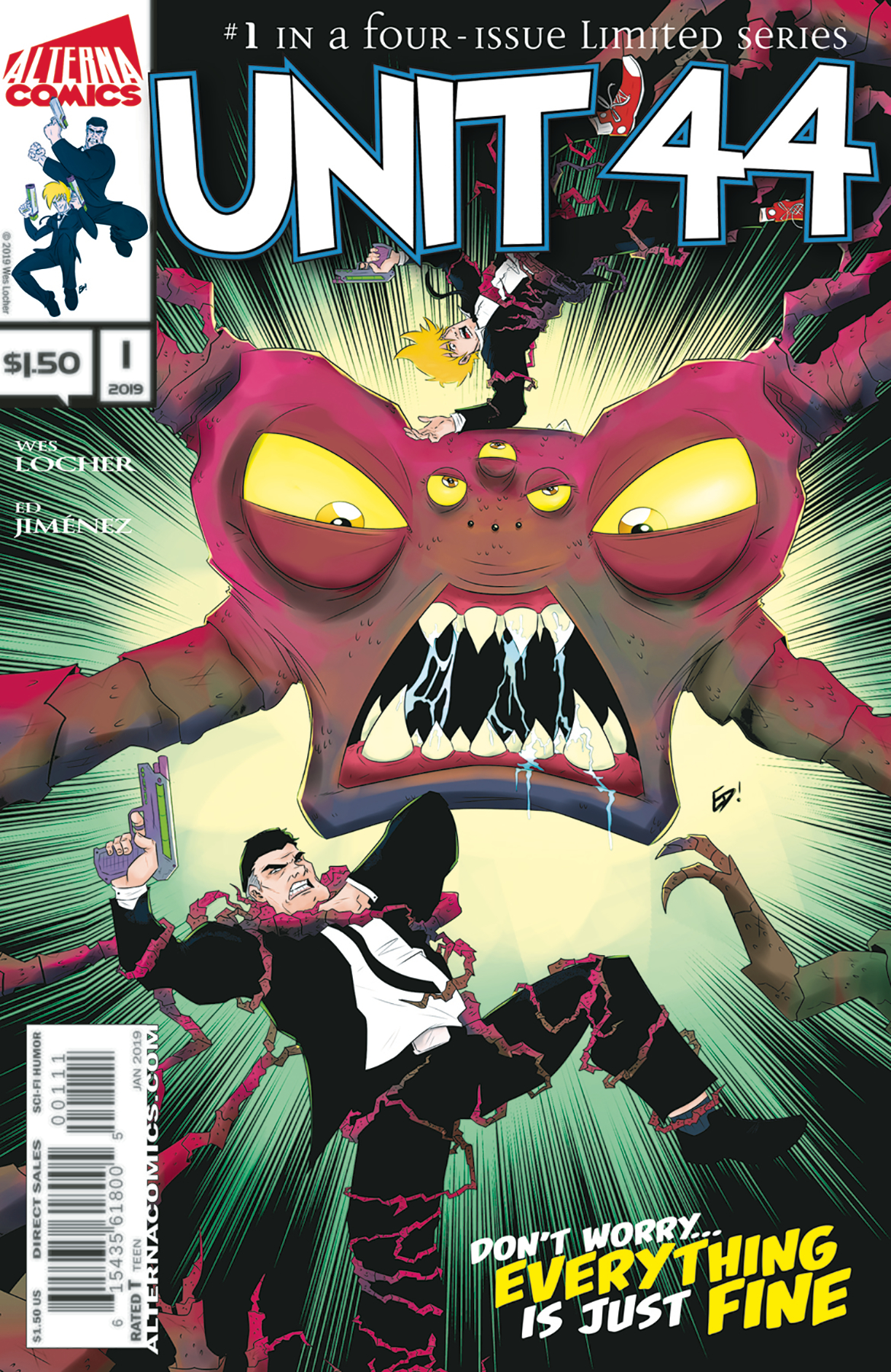 Unit 44 #1 (of 4)
Writer(s): Wes Locher
Artist(s): Ed Jimenez
Cover Artist(s): Ed Jimenez
Publisher: Alterna Comics
Synopsis: "Two bumbling Area 51 agents forget to pay the rent on the facility's off-site storage unit and the secret contents end up being sold at a public auction. With an alien invasion threatening planet Earth, can this dim-witted duo save the human race from extinction? Probably not."
–PREVIEWSworld
And here we come to a tale that is for all intents and purposes the very opposite of what you get with the Men in Black.  Area 51 agents completely forgetting to pay a rental service's monthly dues to an offsite storage unit that contains highly sensitive material.  Already these guys should be in trouble for putting such governmental secrets into jeopardy, especially when a public auction ensues to allow them to be sold off piecemeal.  Combine that with the possibility that the secrets possessed in these auctioned-off files can potentially help with an impending alien invasion of Earth and you wind up with quite a messed up story.  Can these two agents ever be redeemed for their stupidity?  Highly doubtful!
Digital format available from https://www.alternacomics.com/ and https://www.comixology.com/.  Hard copy format available from your LCS!
---
With January now at an end, this week finds us riddled with indie tales of bumbling government agents coupled with unlikely sidekick superheroes.  You can find both of these wonderful titles courtesy of Alterna Comics this week and they are available at the mere click of a button or screen on your phone, computer keyboard or tablet.  But of course being the mindful supporters of local business that you are I know you will head on down to your local comic stores this week and purchase the hard copy issues themselves.  Read them and share with your friends.  Start a conversation and be sure to leave a comment or two.  But most importantly, remember…GGG!