Happy February, dear Gatherers and Grand Geeks!  It seems that we have all just survived another deluge here in Southern California with the rain in full retreat.  But in its wake, great cold weather has raised its ugly head once more.  Not that I'm complaining of course.  All the more reason for me to snuggle up in bed with a hot cup of coffee in one hand and a good indie book in the next.  But before I partake in my own delights, let's see to your own with what recommendations I have for you this week!
---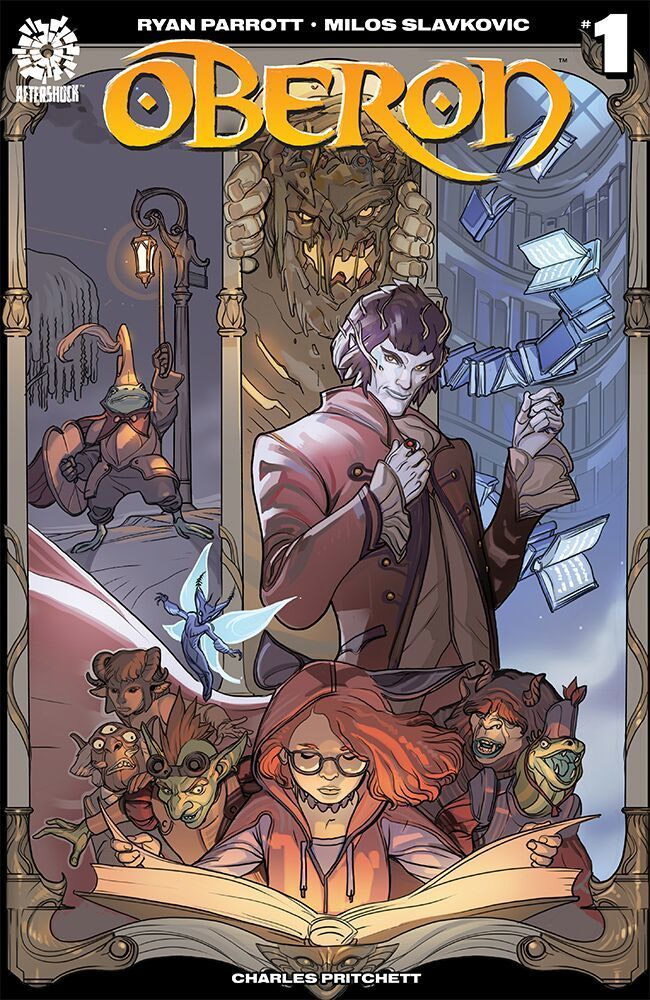 Oberon #1
Writer(s): Ryan Parrott
Artist(s): Milos Slavkovic
Cover Artist(s): Milos Slavkovic
Publisher: Aftershock Comics
Synopsis: "Betrayed by his people and exiled to Earth, Lord Oberon, the former king of the fairies, seeks out an innocent prophesied child in order to manipulate her into becoming his ultimate weapon so that he can reclaim his rightful throne.
From writer Ryan Parrot (VOLITION) and artist Milos Slavkovic (T/K), Oberon is a new supernatural adventure proving once and for all that fairies should never be trusted."
–PREVIEWSworld
Villains make for great protagonists within the realm of stories, and in this particular indie story Lord Oberon is no different.  But what length does a former king among faeries go to in order to regain his throne?  Oh nothing more than just trying to find a 'chosen one' in the form of a child of Earth to help him do it.  Considering that he was exiled there in the first place, it's not as if he has far to go.  But will the Earthling youth be as quick to trust such a character that simply cannot be trusted?!
Available in digital format from http://aftershockcomics.com/ and https://www.comixology.com/.  Hard copy format available at your LCS! Aspen Visions: Fathom, Spinning our Fate #1
Writer(s): Blake Northcott
Artist(s): Michael Sta. Maria
Cover Artist(s): Michael Sta. Maria, Micah Gunnell
Publisher: Aspen Comics
Synopsis: "In the tradition of DC's Elseworlds and Marvel's "What If?" classic stories comes Aspen's most mind-bending concept ever-ASPEN VISIONS!  The second thrilling chapter continues here as part of a special three part mini-series spanning across Aspen's most popular titles-Fathom, Soulfire and Executive Assistant Iris! Just how does Executive Assistant Iris encounter Fathom's preeminent heroine, Aspen Matthews, for the first time ever-and how does it all take place in the Victorian Era?!…"
–PREVIEWSworld
Aspen Matthews set within a Victorian Era background?  Well I guess Aspen Visions have struck again! Read on as we find in this second part of a three-issue miniseries some of our most beloved of Aspen's heroines in alternate realities.  And if it isn't already exciting and confusing enough, just imagine how crazy a story it is when Executive Assistant Iris encounters Aspen in this moonlight and magnolias scenario.  All that is needed now is a good mint julep recipe, y'all!
Available in digital format from http://www.aspencomics.com/ and https://www.comixology.com/.  Hard copy format available at your LCS!
---
February starts with a bang my dear indie readers! Alternate worlds combined with evil faerie kings.  These tales and many more are what await you at the mere click of a button on your phones, tablets or keyboard.  But since you are all mindful of supporting local businesses, I will encourage you to head to your local stores tomorrow and pick up the hard copies themselves.  Read them and share with your friends.  Start a conversation and be sure to leave a comment or two.  But most importantly Gatherers, remember…GGG!