Hail, dear Gatherers and Grand Geeks!  I do hope all is well with everyone and their fandoms are all currently being satisfied.  As for me I'm just slightly under the weather. Not so much anything sickness-wise I can pinpoint but rest assured that I am quite alright.  The show must go on, and for you my wonderful audience that means delving more into all those sweet recommendations I will give to satisfy your indie comic reading needs. This week, we shall see what great literary selections that Antarctic Comics has in store for you!
---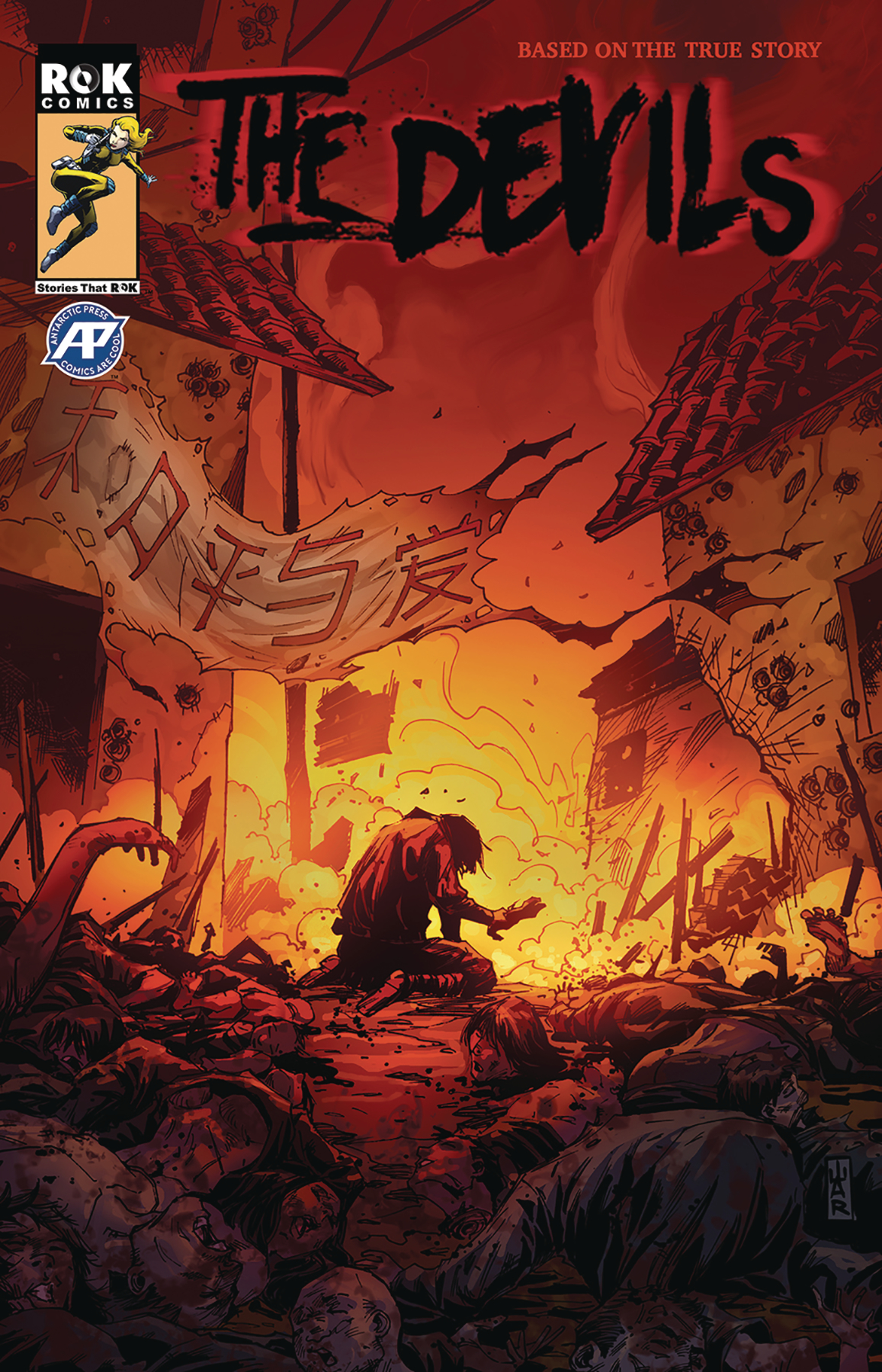 The Devils #1
Writer(s): Matthew Spradlin
Artist(s): William Allan Reyes
Cover Artist(s): William Allan Reyes
Publisher: Antarctic Press – ROK Comics
Synopsis: "A true life horror story rooted at the end of World War II.  Two Japanese soldiers struggle to make it through a deadly island swamp as the dark sins of their less honorable Japanese soldier comrades come back to extract their bloody revenge."
–PREVIEWSworld
With this book we see a story surrounding two friends of the Imperial Japanese Army who have survived the Second World War only to have to face a greater threat.  In the deep of a savage island swamp the two of them have not the fury of the Allies to haunt them, but instead a seemingly existential yet altogether entirely real threat…the demons of their past.  These two were honorable soldiers but the same cannot be said of their brethren in the Imperial forces as the repercussions of their actions come back to scare these two survivors.  Whether they will survive this imminent threat frightening them from their past remains to be seen.
Available in digital format from https://antarctic-press.myshopify.com/ and https://www.comixology.com/.  Hard copy format available at your LCS!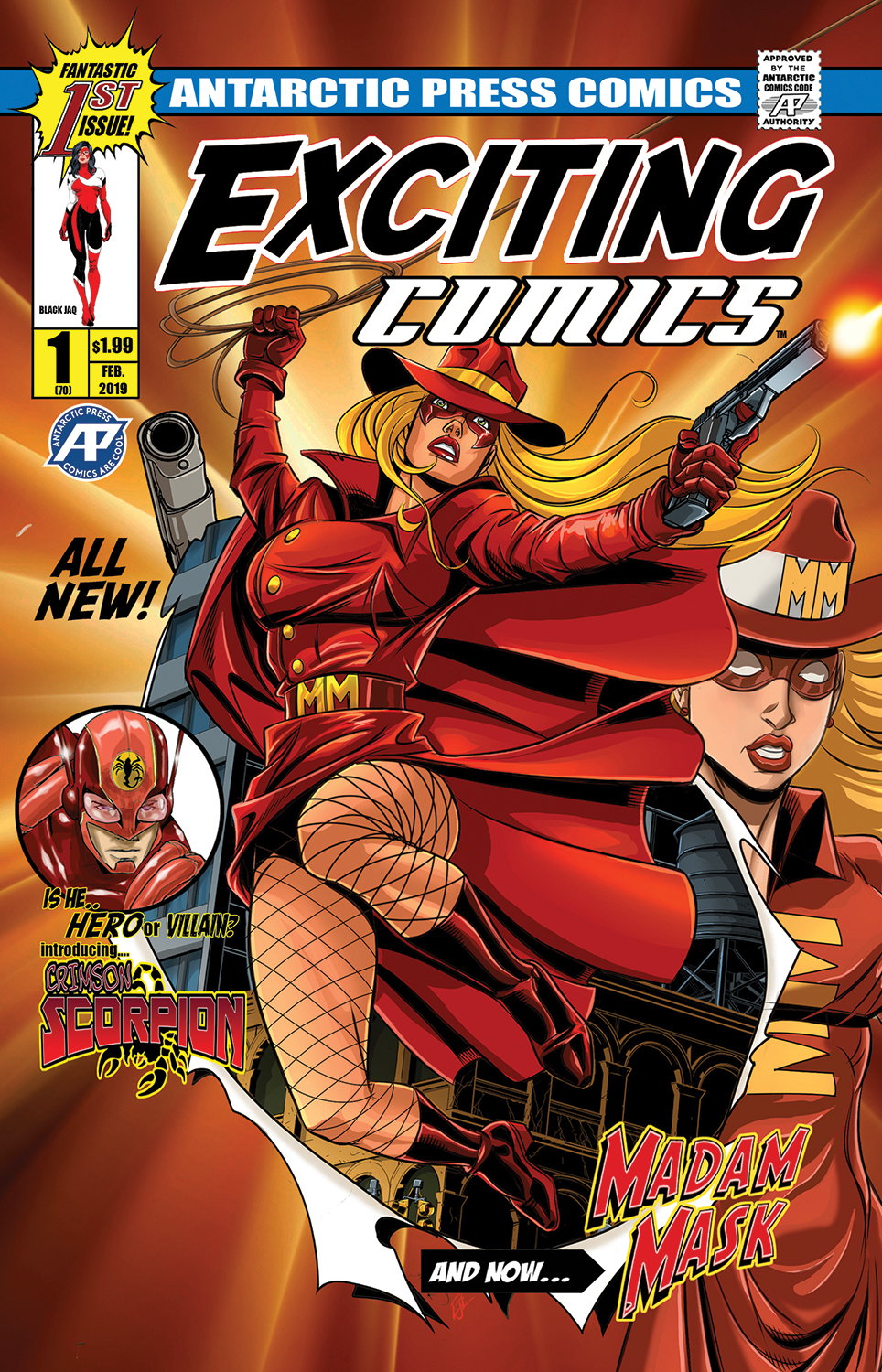 Exciting Comics #1
Writer(s): Various
Artist(s): Various
Cover Artist(s): Various
Publisher: Antarctic Press
Synopsis: "For the first time in over 70 years, Exciting Comics returns to stores!  In this premiere title, Antarctic Press introduces the Superverse, a new shared universe that combines classic public domain characters such as Black Terror and the Heap with a host of new, original heroes!"
–PREVIEWSworld
Anytime a Golden Age comics-verse re-emerges onto the scene is a time for utter celebration, my dear indie readers!  Exciting comics dazzled readers during the 1940s to fall into unfortunate oblivion inside of the public domain thereafter.  But now, for all you wonderful readers of Antarctic's comics, this exciting world is now for your consumption once more!  This new and upcoming series is perfect for both the fan of this classic universe as well as those just finding out about it right here and now.  Black-Jaq. Spriggan. Terror. So many heroes have taken the veritable time machine to these modern times.  Get reading while the getting is good, folks!
Available in digital format from https://antarctic-press.myshopify.com/ and https://www.comixology.com/.  Hard copy format available at your LCS!
---
This week was definitely a 'blast to the past' for many readers, and a 'blast from the past' for others!  An odyssey of two post-WW2 Japanese veterans combined with heroes of the Golden Age brought from olden times to grace the pages of modern books.  These gems and more are what await you at the mere click of a button on your phone, tablet or keyboard. But knowing you are the supporters of local businesses that I trust you are, I will encourage you to head down to your local comic stores this Wednesday and pick up the hard copies themselves.  This helps not only the store but is a shining example of your support for Antarctic Press as well. Read them and share with your friends.  Start a conversation and be sure to leave a comment or two.  But most importantly, remember…GGG!