Hello to all you adoring Grand Geeks and Gatherers of the realm! Here in the kingdom of Southern California I feel nothing but atmospheres that are ready to bake us alive. So right now I'm ready to grab a cold drink and lay by the pool and get some reading done.  But just before I do that, let me give you some wonderful suggestions that you can take by poolside to enjoy as well!
--- Eternal Thirst of Dracula: Book 2 #1
Writer(s): Mike Wolfer
Artist(s): Elmer Cantada
Cover Artist(s): Michael Kaluta, Jomar Bulda
Publisher: American Mythology Productions
Synopsis: "The indie horror event of 2018 returns with a brand-new chapter featuring a cover by the legendary comics artist Michael (I…Vampire) Kaluta! Return to 1970's grindhouse horror as Van Hauser and Kandy Brick come to terms with the truth… That Count Dracula is real, and he has his sights set on them! Following the horrific confrontation on Dracula's Philippine Islands sanctuary, the king of the vampires desperately searches for a way to halt the threat of the "tainted ones," and that means uncovering the original journals of Abraham Van Helsing, now in the possession of Van Helsing's great, great, grandson, "B" horror movie star, Van Hauser! This is horror the way it was meant to be!…"
–PREVIEWSworld
We finally flip to a new chapter in this fabulous vampire series that began last year. A descendant of Doctor Van Heling and his friend must come to terms realizing Dracula is a real entity and is set upon obtaining old texts of his former adversary toward a most nefarious end. Not to mention these two are next on Dracula's hit list!
Available in digital format from http://www.americanmythology.net/ and https://www.comixology.com/. Hard copy format available at your LCS!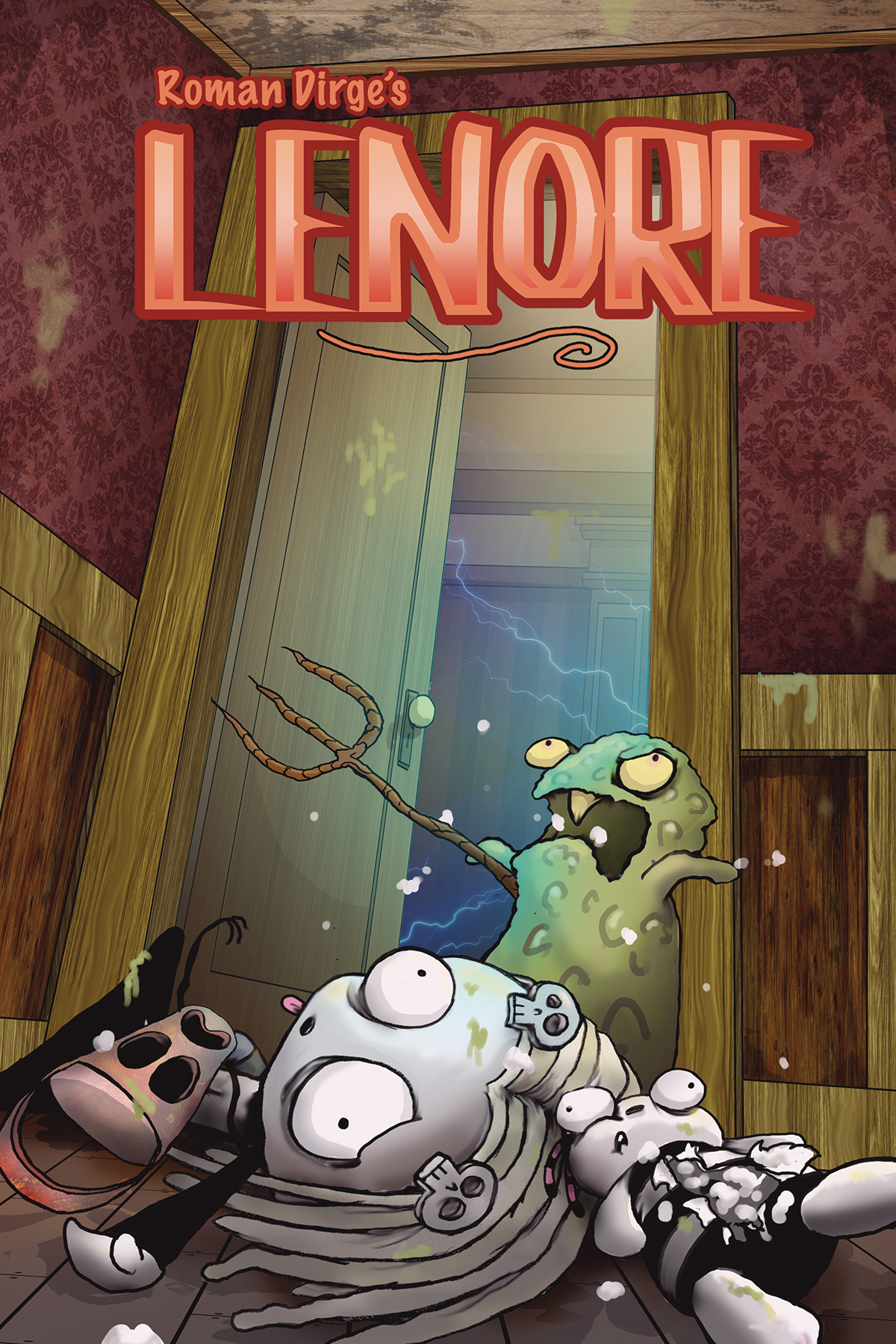 Roman Dirge's Lenore: Volume 3 #1
Writer(s): Roman Dirge
Artist(s): Roman Dirge
Cover Artist(s): Roman Dirge, Sarah Gailey
Publisher: Titan Comics
Synopsis: "The world's cutest cadaver! The most lamentable leading lady! The gruesome goth girl herself! The gothic icon Lenore returns at last, in a brand new series from creator Roman Dirge. A demented pickle hat begins its mad killing spree!"
–PREVIEWSworld
Everyone's favorite cutesy and lovable zombie gal is back in this whole new series by creator Roman Dirge! Such a lovably sweet character that borders upon the sickening and macabre.  Once again Dirge's creation gets herself into the middle of some strange bumbling shenanigans and this time they all lead toward some strange pickle hat that is wild with blood lust on some killing rampage. As comical as it sounds, I actually am willing to admit that I would be utterly frightened if a killer pickle hat was after me so, please Lenore, for the sake of your fans, please end this brined threat!
Available in digital format from https://titan-comics.com/ and https://www.comixology.com/.  Hard copy format available at your LCS!
---
And there we have it for the beginning of August, Gatherers and Grand Geeks! Two haunted classics making their celebrated return to the comics page to engage in more wonderful stories for every indie reading need we have. These tales and so many others are available at the mere click of a button or screen on your keyboards or tablets.  But I will challenge you to show your support for your local stores by heading down to them this Wednesday and picking up the hard copy issues themselves.  Read them and share with your friends.  Start a conversation and be sure to leave a comment or two.  But most importantly, remember…GGG!