Howdy Gatherers and Grand Geeks! I hope all is well in your section of the geeky cosmos.  I myself am just lazing about on my weekend catching up on some much needed reading. But alas, this article is about you and not me and finding all those sweet selections you can find at your local stores or online from the comfort of your own home.  So let's get down to it!
---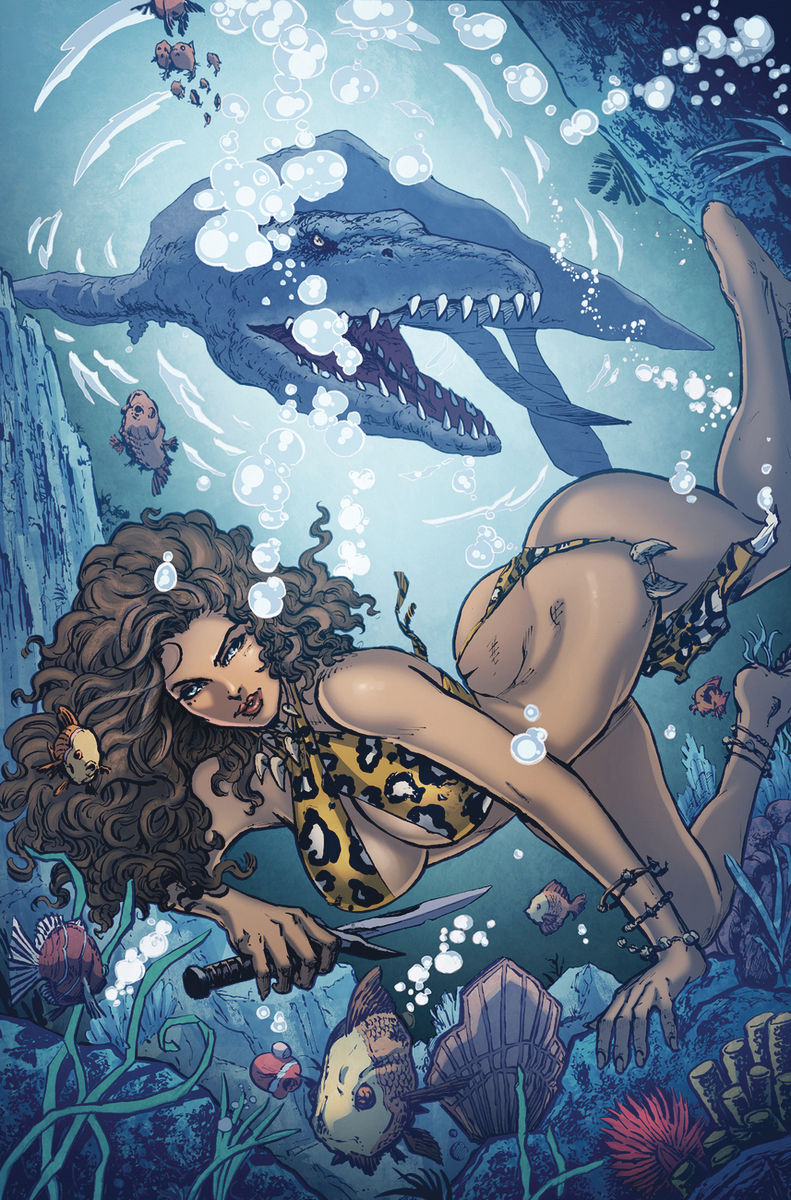 Cavewoman: Riptide #1 (one-shot)
Writer(s): Devon Massey
Artist(s): Devon Massey
Cover Artist(s): Devon Massey, Budd Root, Mario Gully, Catia Fantini
Publisher: Amryl Entertainment
Synopsis: "Meriem and Carrie are enjoying a beach picnic on a beautiful summer day. After deciding to take a walk, they happen upon the corpse of a missing girl from Marshville. Following the clues, they realize that they are on the trail of Meriem's deadly and mysterious underwater enemy. What they do not realize is this is actually a sibling of her greatest foe."
–PREVIEWSworld
This is most certainly a title that escalates quite quickly. After all, Meriem and Carrie only wanted to enjoy a nice breezy summer day on the beach. But of course finding the gnawed up remains of a missing female from Marshville only stokes the investigative urge in them and beckons them further toward a destiny they definitely were not anticipating.  Not only do they find that the culprit is behind this savage killing, but is merely family to Meriem's greatest adversary!
Available in digital format from http://www.amryl.com/ and https://www.comixology.com/.  Hard copy format available at your LCS!
Show's End #1
Writer(s): Anthony Cleveland
Artist(s): Jeferson Sadzinski
Cover Artist(s): Jeferson Sadzinski
Publisher: Mad Cave Studios
Synopsis: "Equal parts brutal and beautiful, Show's End takes place in Georgia during the 1920s and follows Loralye, a 12-year-old runaway seeking refuge with a traveling group of freak show performers. At first, she isn't welcomed for being too "ordinary." But what her new found family doesn't know, is that Loralye is hiding a secret more freakish than anyone could ever imagine!"
–PREVIEWSworld
On first look I do believe this cover to be one of the most fantastically drawn artworks I have ever seen. That alone is what drives me to want to delve into this book further, but if that doesn't catch you, then imagine a tale set in Georgia during the Roarin' Twenties when an ordinary runaway is taken in by a freak show performance act.  They are inclined to think she's too ordinary, having no idea just what macabre secret she is holding inside!
Available in digital format from https://madcavestudios.com/ and https://www.comixology.com/.  Hard copy format available at your LCS!
---
I do have to admit the Picks are exceptionally mysterious this week! Stories detailing the availing of ultimate seaside monsters combined with runaways holding in dark secrets from a traveling freak show! These stories and so many others can be found at the mere click of a button on your tablet/phone screens or on buttons of your keyboards. But deep down I know you want to go that extra step and head down to your local stores this Wednesday and show your support for them! Read them and share with your friends. Start a conversation and be sure to leave a comment or two!  But most importantly, remember…GGG!