Hello dear Gatherers and Grand Geeks…this is the unconscious husk of Jeff writing today. For he is so physically exhausted from his exertions at WonderCon this weekend that he literally is sleeping while his body takes up the slack of writing this out for you.  Suffice it to say, he has had quite the weekend, dropping far more money than he really should have on all his favorite fandoms. But hey, that's what conventions are for!  So many indie books were read and obtained and fun was had every moment of the event.  Alas, the body has only so much time before it joins Jeff's mind for slumber once again. So here goes!
---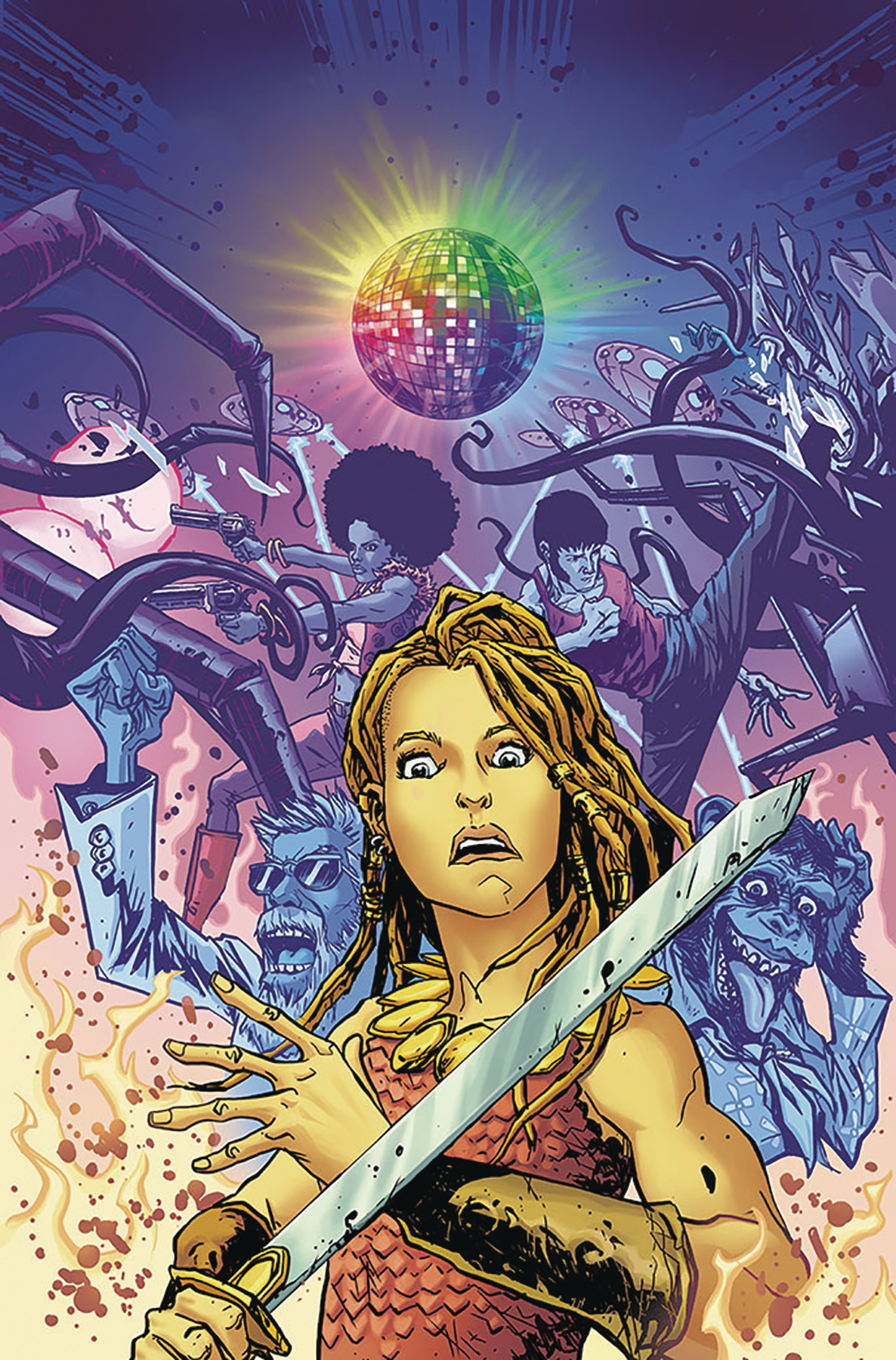 Bronze Age Boogie #1
Writer(s): Stuart Moore, Tyrone Finch
Artist(s): Alain Mauricet, Alberto Ponticelli
Cover Artist(s): Alberto Ponticelli
Publisher: Ahoy Comics
Synopsis: "AHOY Wave Two begins! What do you get when you combine all the best-loved comics genres of the 1970s: apes, monsters, Kung Fu, sword-and-sorcery, and cosmic adventure? You get Bronze Age Boogie, an intense, character-based action-fest with plenty of style! In this collector's item first issue, young barbarian princess Brita Constantina finds herself battling a Martian invasion in both 1975 AD and BC! Back-feature: Meet Major Ursa, the first bear in space. But will he be a hero or a villain? Plus the usual assortment of AHOY extra text stories!"
–PREVIEWSworld
The Bronze Age Era of comics was probably one of the most colorful and exuberant phases in the genre.  One has only to look at the various books of that era to realize this truth. And Bronze Age Boogie manages to bring all that back with the stories of bears in space and disco jams and barbarian princesses and wicked time travel. Second Wave is a go!
Available in digital format from https://comicsahoy.com/ and https://www.comixology.com/.  Hard copy format available at your LCS!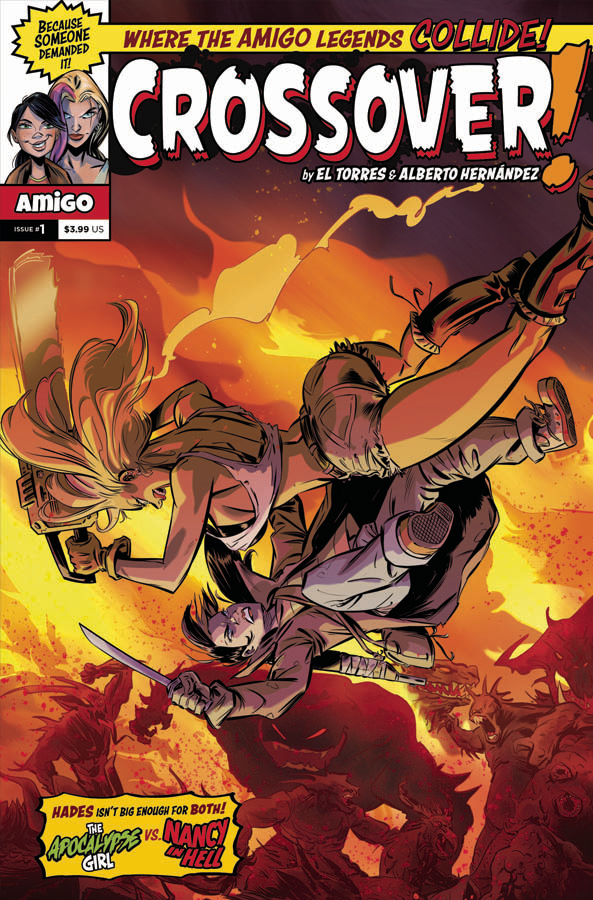 Crossover! #1
Writer(s): El Torres
Artist(s): Alberto Hernandez
Cover Artist(s): Alberto Hernandez
Publisher: Amigo Comics
Synopsis: "At last! The links between the worlds will be revealed, and the characters of Amigo Comics will meet each other! A series of one-shots where our heroes meet! In this first issue, the Lady of the Chainsaw fights the Survivor of the Apocalypse in a duel to the death… in Hell! Nancy in Hell vs The Apocalypse Girl!"
–PREVIEWSworld
Crossovers have always been a fun topic to pursue in the comics realm.  One has only to look at the various events that the Big Two have made over the last thirty-five years to realize that fact.  Now it is Amigo's turn to dabble in such a splendid event with some of their greatest characters colliding in combat with each other. The book itself is the first of a series of one-shots pitting Amigo's MVP's against each other.  And in its first issue we get everyone's favorite female Chainsaw battler squaring off against the eminent apocalyptic survivor. Just who will walk away from this fight, though?!
Available in digital format from http://amigocomics.com/ and https://www.comixology.com/.  Hard copy format available at your LCS!
---
There we have it for our final issue of Jeff's Picks, everyone! Its been fun providing you all those wonderful selections to get at your local comic stores, including these tales such as those of a splendid company crossover or a fantastic selection of homage to comics of the 1970s!  Alas, these gems and others will always be ready at the click of a screen or button on your phones, tablets or keyboards though I will always encourage you to head down to your local shops and show your support for their business by buying the hard copy editions themselves.  Be sure to read them and share with your friends.  Start a conversation and be sure to leave a comment or two.  But most importantly…for one last time, always remember…GGG!…oh yeah and…APRIL FOOLS!