Howdy Gatherers and Grand Geeks, young and old, new and familiar.  By now the euphoric feelings left over from WonderCon have long ceased and thus the normal grind is back in full force.  I continue to enjoy my geekdoms day to day while at the same time bringing to you wonderful readers some great selections to pick from in order to satisfy all of your reading needs. Just what shall be the order of the day this week?!
---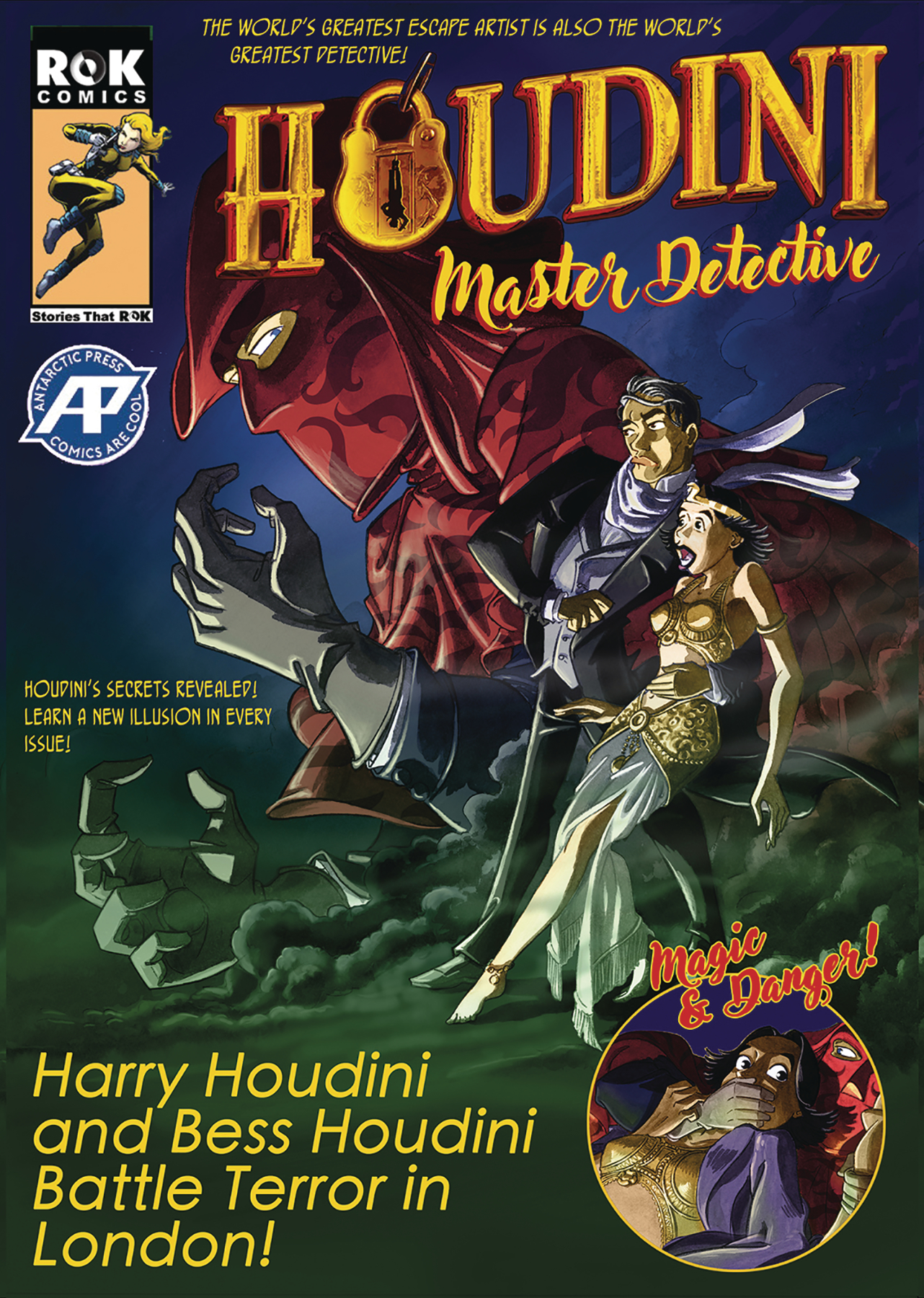 Houdini: Master Detective #1 (one-shot)
Writer(s): Jonathan Kendrick, Jamie Allan Nicklin, Simon Mark Wheeler
Artist(s): Rafael Broseta, David Belmonte
Cover Artist(s): Rafael Broseta, David Belmonte
Publisher: Antarctic Press – ROK Comics
Synopsis: "A mystery criminal is committing a rash of diabolical crimes plaguing the city, so Scotland Yard reaches out to Harry Houdini and his wife, Bess Houdini, are called upon by Scotland Yard to help figure out who the evil perpetrator is.  But no sooner are they on the case then the villain kidnaps Bess!"
–PREVIEWSworld
Personally I have always looked forward to the day when Houdini would've been called up by conventional law enforcement in order to solve a crime. And in this collaborative work on behalf of Jonathan Kendrick and others we get just that!  Already the stakes are high when Houdini and his wife are called up to catch the evil shenanigans of a mystery criminal, but they become even greater the moment that said criminal captures the unassuming wife!
Available in digital format from https://antarctic-press.myshopify.com/ and https://www.comixology.com/.  Hardcover format available at your LCS!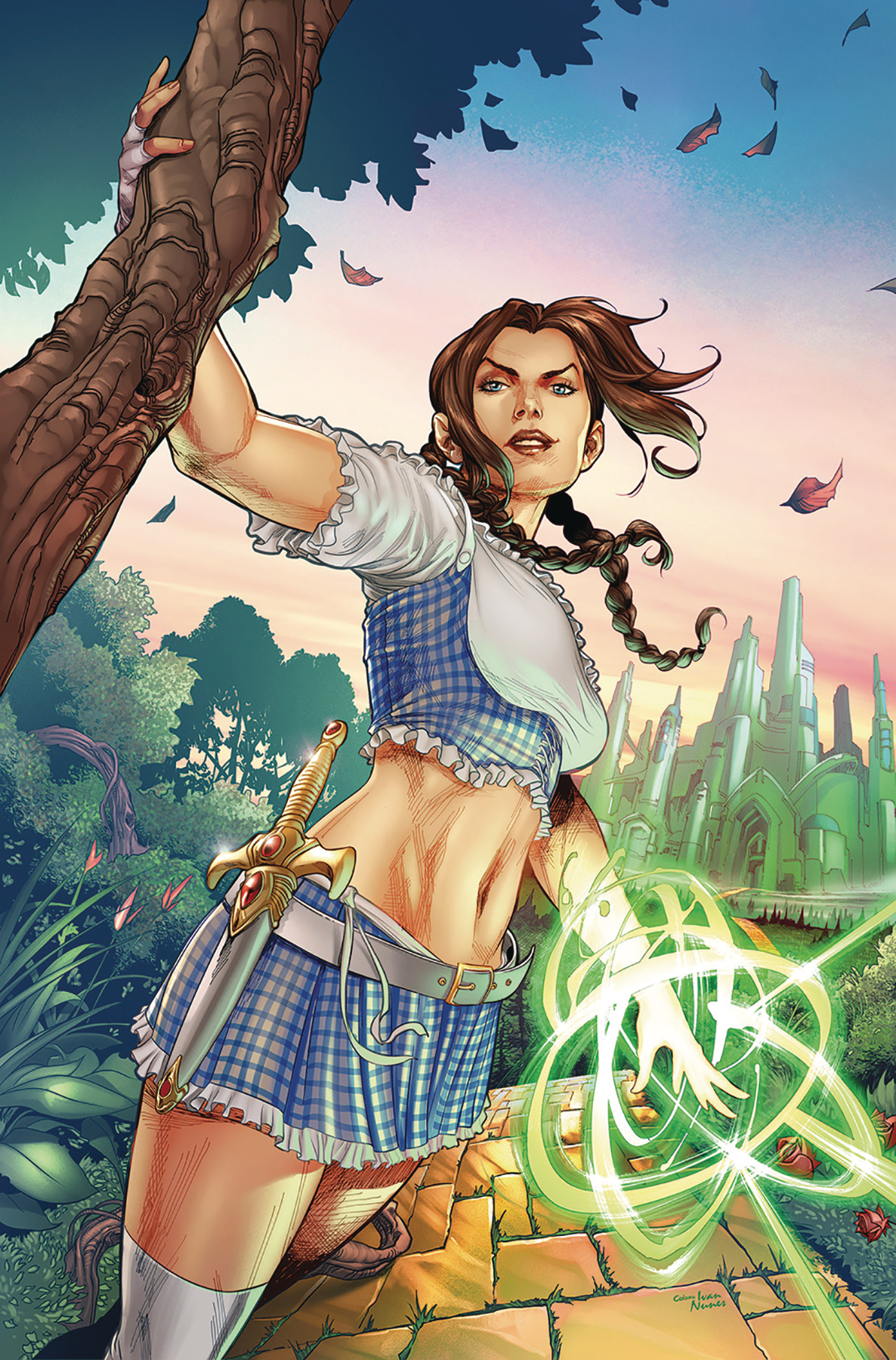 Oz: Heart of Magic #1 (of 5)
Writer(s): Terry Kavanagh
Artist(s): Marcelo Mueller
Cover Artist(s): Martin Coccolo, Edgar Salazar, John Royle, Caanan White, Leonardo Colapietro
Publisher: Zenescope Entertainment
Synopsis: "The Realm of Oz is back! Last we saw Dorothy she was trapped in a body that isn't hers by the evil Wizard of Oz, cut off from most of her loyal followers and exiled from the Emerald City. Now on the run through increasingly forbidding lands, with the very heart of the realm itself on the line, will she be able to protect herself and more importantly the people who rely on her? Find out here, in the first issue of this soon-to-be-legendary tale!"
–PREVIEWSworld
Things certainly haven't been going well lately for the poor gal from Kansas.  The Evil Wizard of Oz trapped her essence inside of another body. She's been exiled from Emerald City. And now she's fending for herself in places where she isn't necessarily welcome. Will she ever be able to reverse this sad state of affairs and be able to being the protector of this magical realm once more?  Only time will tell.
Available in digital format from http://www.zenescope.com/ and https://www.comixology.com/.  Hardcover format available at your LCS!
---
And there we have it for the ides of April, Grand Geeks and Gatherers! Tales of Dorothy and Houdini wrapped around mysterious intrigue and surroundings to entertain your every whim.  These stories and so many more indie books await you at the mere click of a button or screen on your device of choice.  But being the good supporters of local business that I trust you are I know you will walk down to your local comic stores this Wednesday and get the hard copies themselves.  Read them and share with your friends. Start a conversation and be sure to leave a comment or two.  But most importantly, remember…GGG!