Tyler takes over the episode with his amazing guest Kayden Phoenix returning to talk about her new super hero Santa that is available to back on Kickstarter until Sept 9th, 2020!
Podcast: Play in new window | Download
---
Santa
Synopsis:
Santa lives in Wexo, a made-up bordertown in Texas. With  elections coming up, the tension rises as the conservative frontrunner, Irene Calderon-Estevez, AKA ICE, wants to start a race war in the town. On the democratic side, we have La Politica running. Comadre, the mentor and veteran, ends up recruiting Santa for the democratic campaign and as the racial tensions rise in the town, Santa learns what it means to be patriotic while harnessing her Mom's military past. When civilians start getting stolen, Santa  finds her voice and strength to raid the concentration camps and take down ICE.
The objective of this book is to have a Latina superhero origin story; one that overcomes prejudice about race, learning to find oneself in this patriarchal oppressive society, and most importantly, a story that honors the mom.
I'm very fortunate to have an amazing Latina artist team. We have Eisner-nominated and GLAAD nominated artist, Eva Cabrera, as our Illustrator. She's currently illustrating the 4th Latina superhero, Loquita.
Santa is available to back on Kickstarter until September 9th, 2020! Back it now!
---
Kayden Phoenix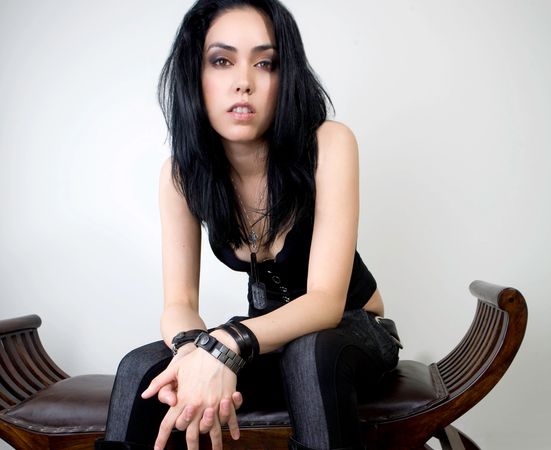 Bio:
Kayden Phoenix is a Chicana Writer and Director from Boyle Heights, California. She received a full ride academic scholarship to Loyola Marymount University where she acquired a BA in Business Administration, with an Emphasis in Marketing. Upon entering the industry, the first thing she noticed was the industry dominated standard- complete with character generalizations.

In response, she became a huge advocate for diversity both in front and behind the camera, giving a voice to stories untold. She plans on evening the playing field for the under-represented through her unique and diverse filmmaking.
"A big part of my life's purpose is to give voice to stories as multifaceted, atypical, and diverse as the people we find in the real world."  
Kayden is the founder of Chicana Director's Initiative, 2x Grand Jury Prize Winner, Winner of Best LGBTQ film, Winner of Best Love is Love film, nominated for Best Director, and recipient of Panavision's New Filmmaker's Program.
(Via Phoenix Studios Website)
Follow Kayden and Phoenix Studios on Instagram, Youtube, and Phoenix Studio's website!